LOCATION:
Palm Beach Convention Center - 650 Okeechobee Blvd, West Palm Beach, FL 33401
DATES:
January 18-20, 2018 // Hours: 12pm-7pm
January 21, 2018 // Hours: 12pm-6pm
Collectors Preview // Wednesday, January 17, 2018 from 6-10pm
We are proud to be participating in the 21st edition of Art Palm Beach art fair with four areas of attractions and activations, curated by Marcel Katz.
ArtPalmBeach is South Florida's longest running mid-winter fair dedicated to contemporary, emerging, and modern masterworks of the art of the 20th and 21st centuries. The internationally renowned premiere contemporary art fair at the Palm Beach County Convention Center will be celebrating its 21st edition.
Marcel Katz: The Art Plug presents:
MOOD SWINGS - BOOTH #114 : Showcase by AHOLSNIFFSGLUE, CB HOYO, JOHN PAUL FAUVES, + TIAGO MAGRO
THESE ARE NOT PHOTOS - BOOTH #120 : Featuring ARINZE STANLEY + AYO FILADE
FAKE FULFILMENT CENTER - BOOTH #320 : Featuring SHAWN KOLODNY
RAISE THE CALIBER - BOOTH #417 : With BLACK CROW STUDIOS, DETROITWICK, + 501 (c)(3) nonprofit CALIBER FOUNDATION
MOOD SWINGS - BOOTH# 114
"Coming from Miami, I've always embraced culture and diversity. It's important to express yourself and to get your a message across. Art is a great outlet for this: you can create a meaning out of no meaning. Art can evoke a feeling and get people in different moods. This is why I chose a diverse group of talented artists in "Mood Swings". The viewer can feel different emotions, like mood swings, as they view the works on display." - Marcel Katz
THESE ARE NOT PHOTOS - BOOTH# 120
Featuring the works of two extremely talented Hyperrealism artists from Nigeria: Arinze Stanley and Ayo Filade. Each piece takes 300-400 hours (3-4 months) to complete.
FAKE FULFILLMENT CENTER - BOOTH# 320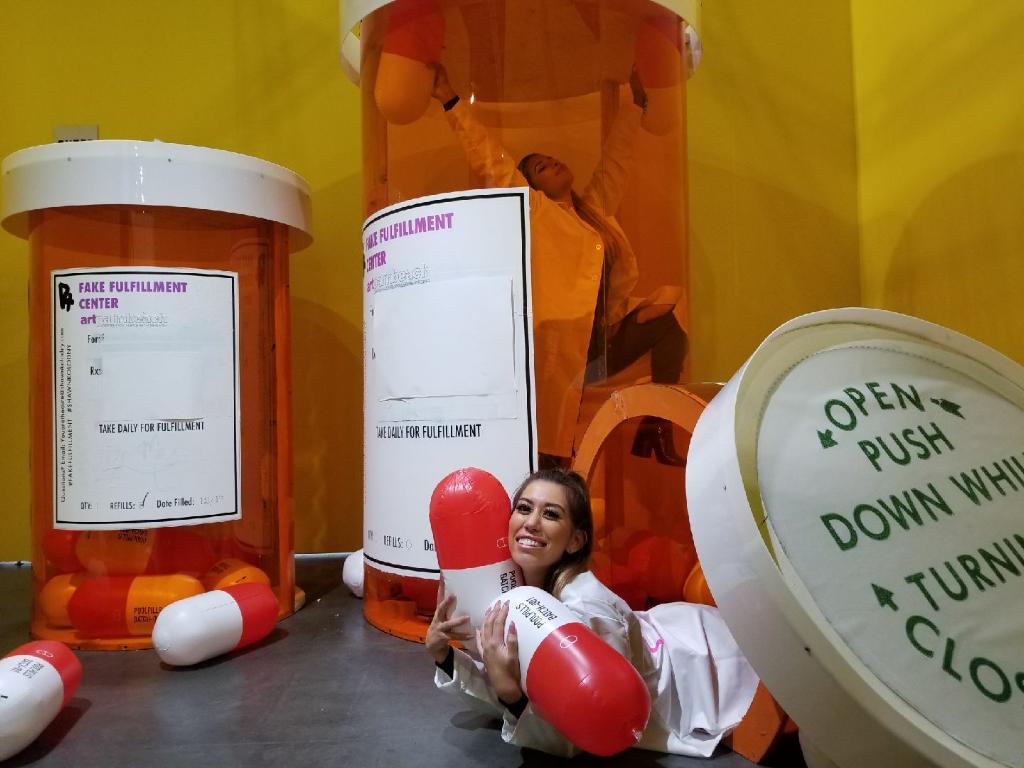 Fake Fulfillment Center is an immersive art installation by artist Shawn Kolodny that confronts the reality of modern addiction in a manner that is both social and playful while remaining thoughtful. Fake Fulfillment Center is an exploration of the ways in which our society's need to display status, wealth and class has formed into dependence. Fake Fulfillment Center, like all of Kolodny's works, has been shaped by the artist's own personal battles with status seeking and drugs.
"In my experience, addiction is not always as it seems; the whole premise is shifty and the promise is fake," said Shawn Kolodny "This immersive exhibition takes guests on a trip through reality, and I hope it evokes some self-exploration around our addictions and the notion of fake fulfillment associated with them."
Combining art from Kolodny's latest series, Fake Fulfillment Center guides guests through a handful of multi-sensory rooms, inducing an interactive search for the cause of one's personal void. Guests of the exhibition will enter through a "pharmacy" located on 21st street where they begin their exploratory experience by donning lab coats. Traveling through a series of social media friendly, larger-than-life vignettes including vintage vials emanating bubbles, a majestic forest of luminescent IV bags and a room of reflection inviting participants to become part of the exhibit - this dark twist of playgrounds is an exhibit not to be missed.
RAISE THE CALIBER - BOOTH# 417
Artists DetroitWick and Black Crow Studios transform SHREDS®, pieces of guns that remain after they've been voluntarily turned in through gun buy back and amnesty programs or seized from crime scenes from across America, into something beautiful by encasing them in solid lucite and capturing them through photography. Percentage of proceeds from each sale are donated to the Caliber Foundation®.
The Caliber Foundation is a registered 501(c)(3) dedicated to support the victims, families and communities affected by illegal gun violence in America. The charity joins forces with a variety of local organizations within partnered cities. Just as the @calibercollection creates opportunities for those who may never have walked the streets of America's most dangerous cities to participate in making those cities a safer place, the Caliber Foundation connects anyone who donates with the organizations and people on the front lines of re-building lives one small act at a time.
Every day in this country lives are lost, and hearts are broken, the Caliber Foundation offers a helping hand when it is needed, acts of generosity on the parts of many, to help families and communities heal and work together to Raise The Caliber.